Everyone should keep track of how much money is going where easily. While GnuCash does allot more then just balance books, that is just scratching the surface. Who knows maybe just using the program for that reason will influence my judgement to a point to where saving a few dollars might actually be possible. Guess only time will tell though.
GnuCash is personal and small-business financial-accounting software, freely licensed under the GNU GPL and available for GNU/Linux, BSD, Solaris, Mac OS X and Microsoft Windows.
Designed to be easy to use, yet powerful and flexible, GnuCash allows you to track bank accounts, stocks, income and expenses. As quick and intuitive to use as a checkbook register, it is based on professional accounting principles to ensure balanced books and accurate reports.
Feature Highlights
QIF/OFX/HBCI Import, Transaction Matching
Reports, Graphs
Scheduled Transactions
Financial Calculations
Double-Entry Accounting
Stock/Bond/Mutual Fund Accounts
Small-Business Accounting
Customers, Vendors, Jobs,
Invoices, A/P, A/R
Features
Checkbook-Style Register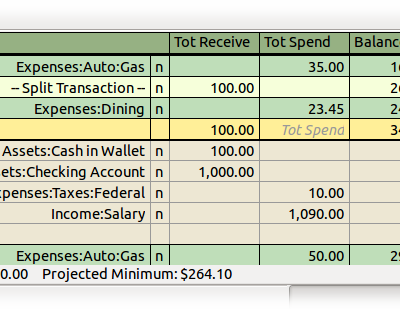 The checkbook-style register provides a custom, convenient and familiar interface to entering financial transactions. The register supports common checking and credit-card transactions, as well as income, stock and currency transactions.
Double Entry
Every transaction must debit one account and credit others by an equal amount. This ensures that the "books balance": that the difference between income and outflow exactly equals the sum of all assets and equity.
Reports, Graphs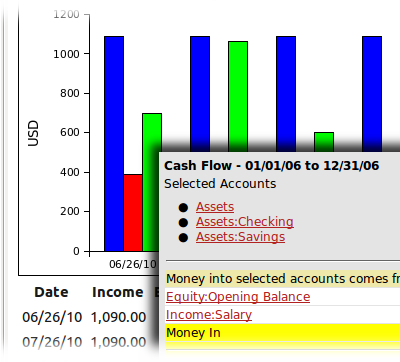 GnuCash has an integrated reporting and graphing module, and comes complete with a full suite of standard and customizeable reports, such as Balance Sheet, Profit & Loss, Portfolio Valuation, and many others.
Income/Expense Account Types
Income/Expense Account Types (Categories) allow you to categorize your cash flow. When used properly with the double-entry feature and equity accounts, these enable you to generate reports, such as Profit & Loss, that plain-vanilla systems cannot handle.
Multiple Currencies
Different accounts can be denominated in different currencies. Currency movements between accounts are fully balanced when double-entry is enabled.
Stock/Mutual Fund Portfolios
Track stocks individually (one per account) or in portfolio of accounts (a group of accounts that can be displayed together).
Small Business Accounting Features
Simplify managing a small business with Customer and Vendor tracking, Invoicing and Bill Payment, and Tax and Billing Terms.
and much more....
To find out more and download this free and Open Source program goto www.gnucash.org.