Screenwriting software helps the user with creating, and organizing projects which can include but are not limited to screenplays, films, videos, stageplays, audio plays, documentaries, machinima, comics, games and podcasts.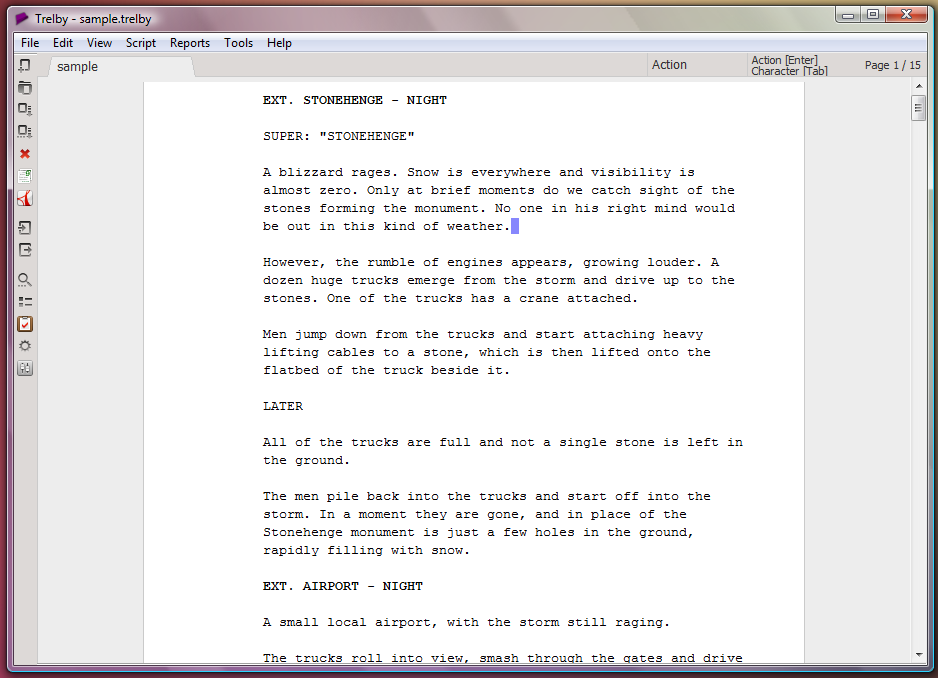 One of the best open source screenwriting programs would have to be
Trelby
. Trelby focuses on providing a simple, uncluttered interface to writing screenplays. It is a rebranding of an older screenwriting program called Blyte. It currently runs on the Windows and Linux platforms, with a Mac OS X port in the works.
Blyte was a commercial screenwriting program written by Osku Salerma in 2003, and was maintained as such until 2006, then the code was open sourced under the GPL license and not found until 2011.
Features of Trelby
Screenplay editor: Enforces correct script format and pagination, auto-completion, and spell checking.
Multiplatform : Behaves identically on all platforms, generating the exact same output.
Choice of view: Multiple views, including draft view, WYSIWYG mode, and fullscreen to suit your writing style.
Name database: Character name database containing over 200,000 names from various countries.
Reporting: Scene/location/character/dialogue reports.
Compare: Ability to compare scripts, so you know what changed between versions.
Import: Formatted text, Final Draft XML (.fdx).
Export: PDF, formatted text, HTML, RTF, Final Draft XML (.fdx).
PDF: Built-in, highly configurable PDF generator. Supports embedding your chosen font.
Another piece of open source screenwriting software is
Celtx
. Celtx helps you produce all types of media film, video, documentary, theatre, novels, machinima, comics, advertising, video games, music video, radio, podcasts, and however else you choose to tell your story.
Celtx includes five dedicated industry standard editors for writing:
Screenplay
Stageplay - International and US standard
AV scripts - including documentaries, music videos and advertising.
Audio Play - including radio plays and podcasts.
Comic Book
Novel
Celtx is a great program with a good wiki, and is a good example of a profitable open source model. The code, program, and tutorials are free but Celtx offers a service worth paying for that doesn't effect the use of the program if a user doesn't pay. The payment is for online sharing and storage features.
Celtx offers a web service called
Celtx Studios
for advanced project collaboration and online file storage. Celtx Studios provides users with a way to work with others online in a simple way and improve the collaboration and workflow process.
Share projects quickly and easily.
Store every project, every version, and every file.
Manage team workflow.
Sync scripts with your iPad/iPhone.
Access projects from any computer.
Privately preview projects on the web.
Chat online with other Studio members.
Personalize your studio with logos and backgrounds.
Celtx Studios are priced to be affordable for everyone - including individuals, production teams, schools, and non-profits.